Hello, My Loves!
Ever had a piece of jewellery that just makes you smile every time it catches your eye? A piece so utterly tactile you can't help but fiddle with it? Well... these pieces do both AND they smile right back at you with their gem-smattered faces 🥰
Each one is made to order so you can choose your gem shapes and colours, as well as the expressions, just drop me a message to discuss ✨
Imagine wearing a piece of jewellery that not only sparkles with the brilliance of gemstones but also greets you with a charming face. That's precisely what our Gem Face Jewellery collection is all about – wearable smiles that were handcrafted JUST for you.
At Soremi, sustainability and beauty go hand in hand. Our Gem Face Jewellery collection is crafted from recycled sterling silver, melted and formed into organic nuggets. Each piece is a testament to our commitment to sustainable accessorising..
These aren't just any faces; they're adorned with a mesmerising array of gemstones. From the timeless elegance of diamonds to the vibrant hues of sapphires, rubies, aquamarines, and more, each gemstone adds character and allure to these unique pieces. What sets our Gem Face Jewellery apart is its uniqueness. Each face is as distinct as a fingerprint, full of charm and character. The nuggets in this collection are complemented by a small yet striking selection of signet rings, each featuring a gemstone face.
Introducing the Gemstone Nugget Face Necklace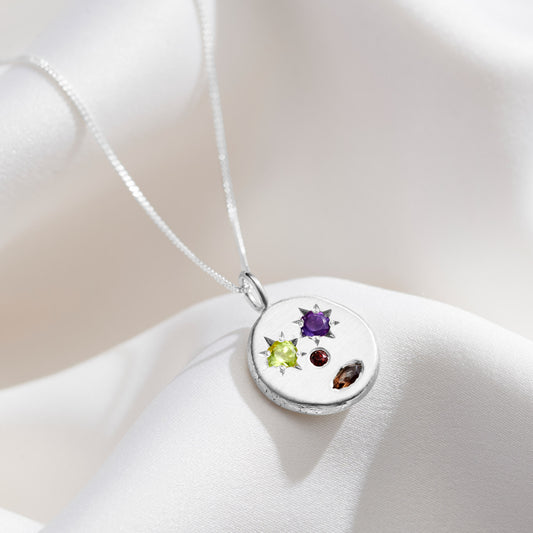 Meet your new bestie! The Gemstone Nugget Face Necklace is an utterly charming addition to our collection. Crafted from recycled sterling silver, each necklace features an adorable face set with a bevvy of gorgeous gemstones, including peridot, iolite, and pink tourmaline. It's not just beautiful; it's perfectly tactile and full of character. The nugget sits on a paperclip chain, ideal for layering up. We love this worn super short choker style! If you'd like to create a face using a different set of gemstones, please just get in touch.
Playful Gemstone Face Signet Rings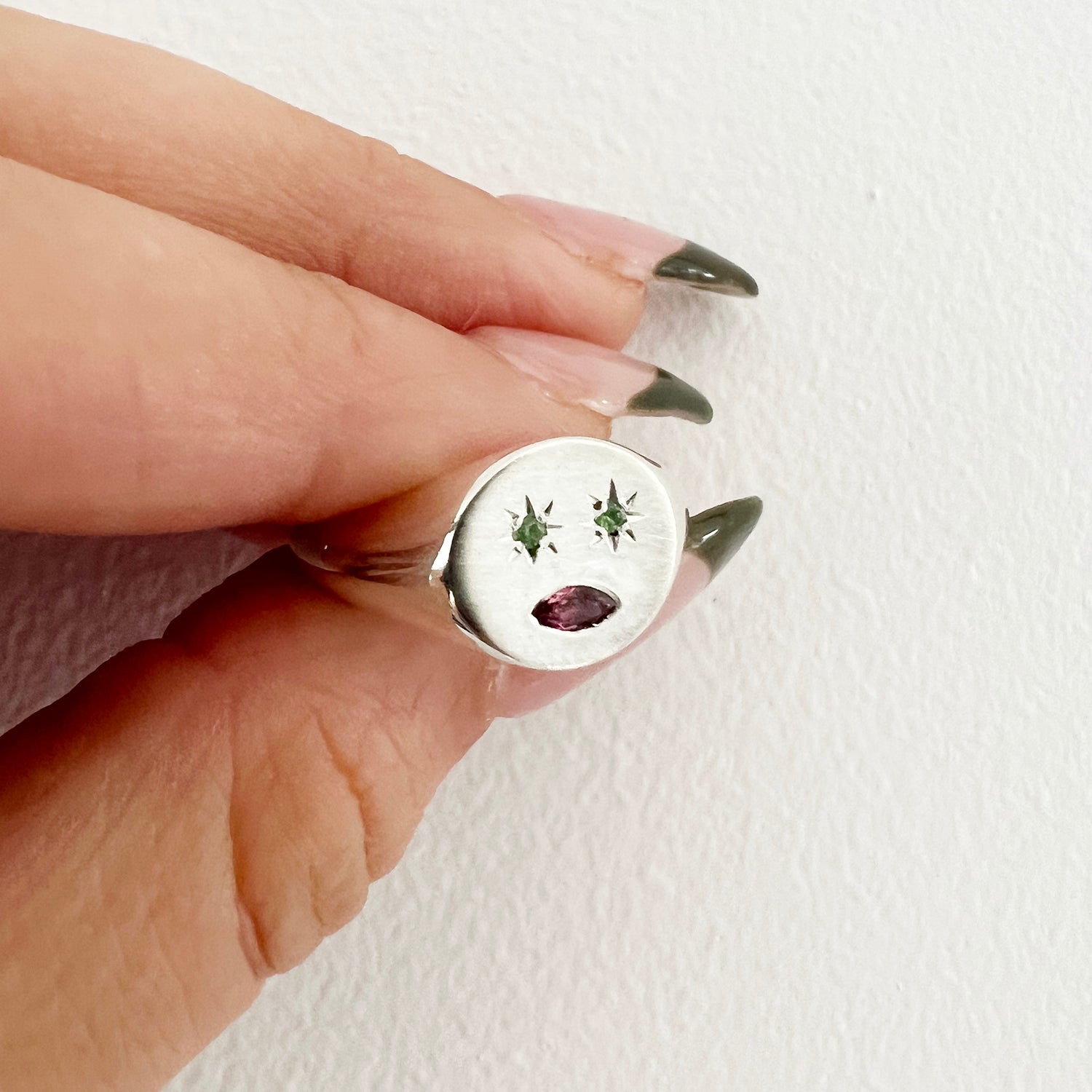 Our Gemstone Face Signet Rings are playful, gem-encrusted wonders. Each ring features a gorgeous face made of colourful gemstones, making each one a unique work of art. Designed to be worn anywhere and everywhere, these rings have a beautiful weight to them, and the gems sparkle whenever they catch the light.
Gemstone Face Nugget Bracelet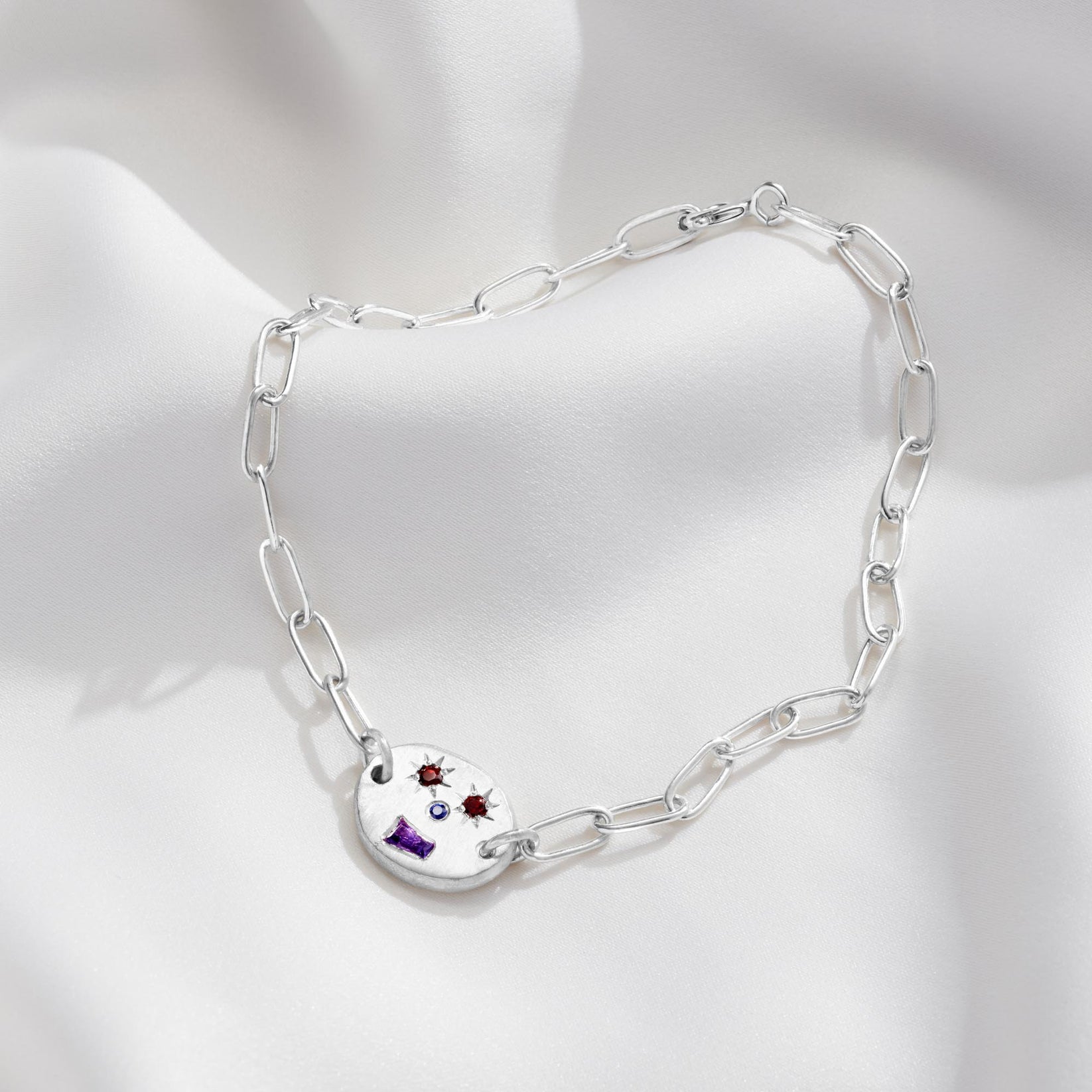 The Gemstone Face Nugget Bracelet is a gorgeously playful piece, like our nugget collection, made from recycled silver. Each bracelet is adorned with an utterly charming face set with garnets, sapphires, and a tapered amethyst. The bracelet is made from an easily adjustable paperclip chain, making it a perfect gift for any occasion and all ages.
Mamma and Baby Nugget Pendant Necklace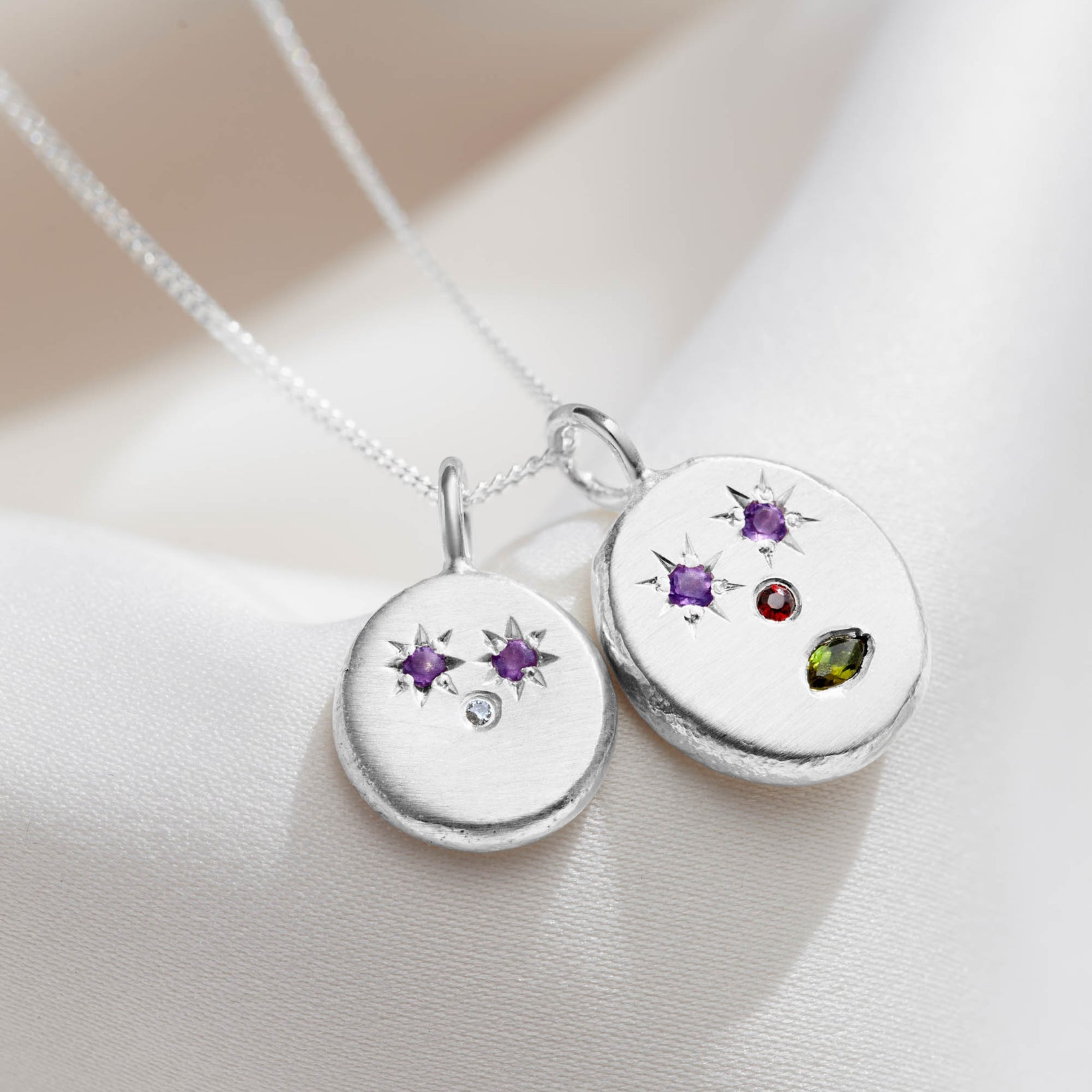 The Mamma and Baby Nugget Pendant Necklace features sterling silver nugget pendants with a stunning set of gemstones to create beautifully playful faces. Perfectly tactile and full of character, each nugget is a one-off masterpiece. Made from recycled silver, melted and rolled out to create a flat nugget, each piece is then set with the gemstones of your choice, including diamonds, amethysts, garnets, and green tourmalines, to create two lovely faces. This necklace is a perfect gift for any occasion and all ages.